By Tieuma
It's nearly the end of the year, and sometimes, I just feel like I'm too young for this. I mean, all around me, there's people saying "I did my time, it's not worth it/Hardcore was better before/you haven't seen as much as I did" and the list goes on. So yeah, I enjoy mostly every piece of records I get my hands on, or my ears only thanks to the internet era, and maybe I lack taste, but I'll be fine with it, don't worry.
So here's my way-too-hard-to-chose list of records for 2014. It's mostly hardcore because it's the purpose of this blog, you know. It's only a top ten, because I had to put limits to it.

---
LPs :
Give – Electric Flower Circus LP | Moonflower Recs. & Adagio 830 Recs.
You can't be wrong with this band, it's a beautiful piece of work, as everytime, which was worth the wait, like and updated version of Rites Of Spring.
Not Afraid – Locked Out LP | Powered Recs. & React! Recs.
Justice and True Colors splitting way before I could even attend their last show, I got Not Afraid and I'm glad for it. Just pure golden belgium youth crew. You can't be wrong with them.
Cold world – How The Gods Chill LP | Deathwish Inc.
Well, you know the name. It's not better than the previous one, which is a more or less impossible task, but it's as good. Even with this super clean sound.
Barren – Anachronism LP | Cobra Recs & Hidden Rainbow Recs.

I got a goddamn probelm with the nineties hardcore. And much more with the ChugChug Unbroken-inspired Vegan Straight Edge type. Underrated band.
Renounced – The Melancholy We Ached LP | Carry The Weight Recs
And I'm also totally crazy about 7Angels 7Plagues, and this band does it the best way possible, mixed with a bit of early PoisonTheWell.
Bâton Rouge – Totem LP | Pure Pain Sugar Recs. & Bakery Outlet Recs.
I saw them this summer and I was disapointed by their set, and it took me time to get into this records, but finaly I enjoy it way too much, it's really keeping this french emo vibe alive.
Angel Du$t – A.D LP | React! Recs.
Someone told me this band started as a joke, but what a joke man. Maryland knows how to party.
Hank Wood and The Hammerheads – Stay Home !! | La Vida Es Un Mus Recs. & Toxic State Recs.
Hank Wood knows the right way to make crazy hardcore punk. Also, don't play it like me taking the advice of the records title properly, if they play a gig on your city, be sure to go there, totally worth it I think.
Battle Ruins – S/T LP | Rock N' Roll Disgrace Recs.
That's what happen when you take the members of killer boston bands, put them together and let them create. It's just astonishing. I'm coming back, got to crush down some skulls on a viking battlefield.
Ritual Mess – Vile Art LP | Clean Plate Recs.
Will Killingsworth and Jayson Green on the same team after a long time, to put out some Antioch Arrow-inspired hardcore. Maybe I'm blinded by the fact it's Orchid members, but I just can't stop listening to it.
---
EPs
S.H.I.T. – Collective Unconsciousness EP | Iron Lung Recs.
Everything is in bands name. Shit this is violent shit, and shit. No seriously, Iron Lung Records rip it off this year. A lot of good release.
Fury – Kingdom Come EP | Triple B Recs.
Really dig the style of this band, like a nerd supergroup or something, trying to always step higher every release. I don't know why, but this band kind of remind me of Lion Of Judah, even though it's nothing close to it. Again, I don't know why.
Cave State – S/T EP | To Live A Lie Recs.
Listening to this, the only word that comes to my mind is primitive, like cavemans hitting shit around. And when a Powerviolence band does that, well it's a quality seal.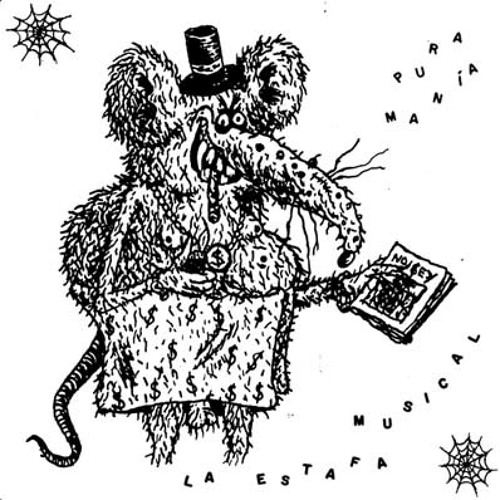 Pura Mania – La Estafa Musical EP | CV Recs.
Hm, I'm not really sure of what the fuck is this, but it got me banging hard, for unexplained reasons. Give it a try, seriously.
Misled Youth – S/T EP | Society Bleeds Recs. & Refuse Recs.
When I ordered stuff from the band, one of the members put a copy of one of his diploma on the package. Weird enough to say I'm still stocked on this DC blood.
(End of a Year)  Self Defense Family – I Tried To Make Something You Would Enjoy EP | Triple B Recs.
Once again, the sick pack put out a ton of stuff this year, and I had to choose beteween of them or all of them would be on this list. So I randomly picked to be honest, but if you know the band, it's all equaly good.
Nudes – Stain EP | Iron Lung Recs.
I dig hardcore that make me feel something, anything, and this one makes me feel terribly unconfortable, at this point it's too sick to close my eyes on it. Damn.
Institution – Uncritical Receiver EP | Black Embers Recs.
 Strife oriented 90's hardcore. I won't explain it again. Grizzly City killers.
Harm Done – S/T EP | Straight And Alert Recs.
I was waiting for Sex Prisoner to put out something, insted I got this, which is way better actually because it's quality nowadays powerviolence from europe that just doesn't only mimic american bands. Stomp shit up.
Headroom – Carry Me Away EP | Dogknights Prod.
A great records from Dogknights Production, from a band I discovered at this Title Fight show where Justice was bought back to life, and it carried me away.
---
CS'
Upperground – The Upperground Sound CS | Life.Lair.Regret Recs
It's like a female fronted Cold World mixed with Cro-Mags. Well played and cool lyrics. Australia's on top.
Dilate – Demo CS | Self-Released

Dumber and angrier version of The Impalers, with this 70's sci-fi arts on the tape, it's a total win win. I wish there was more songs on the records.
Pyka – Too Femme Too Furious CS | Self-Released

What a mess, but important lyrics. I love my queer bands, and its over the top. I've heard they are on a break since one of them left for Louisiana, too bad.
Red Death – Demo CS | Flophouse Tapes & Carry The Weight Recs.

Features members of Coke Bust and many more bands and they are pissed. Thrash your face off.
Ajax – Bleach For Breakfast CS | Self-Released

New York's young Totalitär. And that freaking drummer is a war machine, unbelivable, but what give this demo so much power is its indolance, just play loud and fast like it would be everyday routine. I didn't tried it for breafast though.
Revision – Demo CS | D2C Recs.
Youth Of Today bumped into Mental. I know it sounds cliché/classic to say so, but it's actually damn cool with a lot of great ideas, they chose the right name.
Jack Move – Demo CS | Straight And Alert Recs.
If you're into Boston 2K jam or Breakdown. Great jam from Paris. Also, there was a whole debatee that went really far about which break was the hardest on the records. Insane.
Free At Last – What's Inside Four Walls CS | Mosher's Delight Recs.
Another band that fueled my nineties hardcore problem, Turning Point feeling mostly and it's for the best. Solid and powerful release.
Bricklayer – Demo CS | Self-Released
Barbaric work for this classic but crazy blend of American Oï and hardcore punk, makes you turns in rampage mode. Short but intense songs, and even when one last after 3′, it's a blast.
 Iron Lung – Cold Storage II CS | Iron Lung Recs.
35 songs for 29 minutes of music, that's pretty fair to me. Iron Lung is a sick band playing sick music, very unique and neck breaking, more or less.
---
Hope you enjoyed it, and buy those things while it's still avaible, but it's only a personal advice.